Standard Street Name Finished Signs • NO Lip
Call 1-800-367-1492 for personalized design help and a custom quote for street name signs.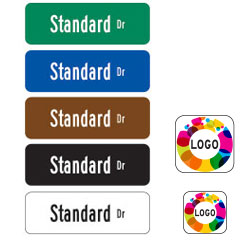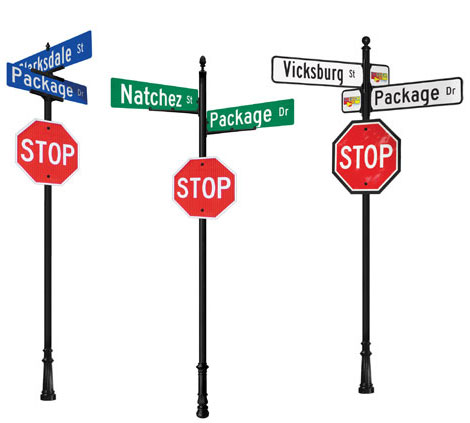 PRODUCT ID: OSI3JLOGOHWH | 6" x 6" Logo Sign
PRODUCT ID: OSI3CLOGOHWH | 9" x 9" Logo Sign
PRODUCT ID: M2AH(X)D(XXXX)(R)BM(XX)N - Street Name Blade
Overlay Film Color (X): (A) Green on White | (B) Blue on White | (C) Brown on White | (D) Black Letters on White | (E) Black on White
Sizes (XXXX): (0942) 42" x 9" | (0936) 36" x 9" | (0630) 30" x 6" | (0636) 36" x 6"
Corner Radius (R): (T) 1.5" Radius for 9" Sign Trim Brackets | (S) .75" Radius for all other brackets
Letter Height (XX): (63) 6" Primary & 3" Prefix/Suffix | (42) 4" Primary & 2" Prefix/Suffix
Material:.080" Aluminum
Bracket Lip: No Lip
Border Styles: None | Edge - Use on dark backgrounds | Inset - use on white backgrounds
Sheeting: White High Intensity Prismatic
Reflective Sides:

Doubled-Sided

(All reflective custom street name sign blanks are double sided. Single sided available upon request)
Standard Letter Font: Standard B Series or largest Highway Gothic Font Series that space will allow based on the number of letters.
Letter Height: 6" Primary & 3" Prefix/Suffix for 9" or taller signs -or- 4" Primary & 2" Prefix/Suffix for 6" tall signs
Standard Colors: (A) White on Green | (B) White on Blue | (C) White on Brown | (D) Black on White | (E) White on Black
Compatibility: Use 6" Tall Signs without a lip with Standard, Jumbo and Wing Sign Brackets. Use 9" Tall Signs in trim brackets. See related products below.
Installation Notes: Signs must be installed with appropriate hand tools. Power tools such as drills and impacts should NOT be used. Power tools cause over tightening, which in turn, causes bracket failure. Returns or exchanges are not available if power tools have been used for installation.

NOTE: Signs are sold separately from brackets, posts and hardware.