Rhino Gas Post Drivers
If you are looking for the power you need for tough jobs combined with the flexibility of being able to drive almost anything, look no further. The multitude of configurations that Rhino's Chuck-Lok™ system allows you to quickly change between is incredibly impressive.
Call Customer Service at 1-800-367-1492 to order the products on this page.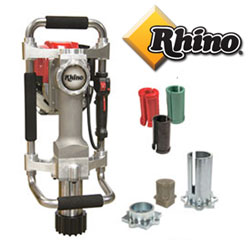 GPD-45 Multi Pro
Product Description
PRODUCT ID: RPEDNGPD45
Includes 1", 1-3/4", and 2" Chuck-Lok™ Adapters
The 2-1/2" chuck is perfect for Round Posts up to 2-3/8".

MORE INFO
Includes 2", 1-3/4", and 1" chuck adapters for driving T-Posts & ground rods.

Ergonomically Balanced, cushion grip handles frame the

GPD-45, providing increased maneuverability and usability.

Comes with Rhino's CIS vibration dampening handles.

Handle-mounted stop switch.

Ergonomically designed handle with an integrated throttle.

Prime bulb, for easy starting.

Legendary reliability: Honda GX35 4-stroke industrial engine.
This tool has passed the stringent Honda US Certification process.

Steel skid plate protects the engine and provides rugged durability.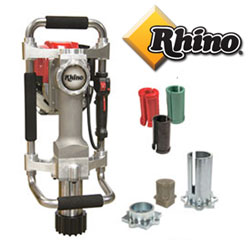 GPD-45 Multi Pro XA
PRODUCT ID: RPEDNGPD45XA
Includes 1", 1-3/4", and 2" Chuck-Lok™ Adapters

PRODUCT ID: RPEDNGPD45XAU
Includes U-Channel Chuck
MORE INFO
This driver is best suited to primarily driving U-Channel.

The XA model was designed at the request of sign installers, municipalities, and rental houses.

The XA model is the Multi Pro with the extended anvil and longer Chuck-Lok already installed.

This makes it truly a 4 bolt change to switch to channel posts, square tubes, and back to rounds.

The XA weighs in only 7lbs heavier than the standard Multi Pro and is primarily designed for higher productivity and U-channel sign installers.
Chucks, Chuck Adapters and Accessories
VIEW CHUCKS, CHUCK ADAPTERS & ACCESSORIES

How to measure your post: Please note, chuck and chuck adapter sizes shown are actual inside dimensions of the opening. To select the proper adapter, measure the longest outside dimension of the post to be driven to confirm it will fit inside the opening. In the case of square or rectangular posts measure the longest diagonal from corner to corner.
2-1/2" Master Chuck-Lok™ for use with all GPD -45 Post Driver Models
PRODUCT ID: RPEDGPDZCH25AMC | 2-1/2" Master Chuck-Lok™ w/Locking Nut

Post Drive Chuck Adapters for use with the 2-1/2" Master Chuck-Lok™
PRODUCT ID: RPEDZCH25A1 | 1" ID Chuck-Lok™ Adapter for posts 0" to 7/8" and is best suited for driving electrical ground rod.
PRODUCT ID : RPEDZCH25A175 | 1-3/4" ID Chuck-Lok™ Adapter for posts 1-1/8" to 1-5/8"
PRODUCT ID: RPEDZCH25A2 | 2" ID Chuck-Lok™ Adapter for posts 1-3/8" to 1-7/8"
PRODUCT ID: RPEDZCH25ATS | Tent Stake Chuck-Lok™ Adapter ideally suited for the rigors of tent stake installation.
Gas Post Driver Lubricant
PRODUCT ID: RPEDNGPD45ZPDL | Gas Operated Post Driver Lubricant - 12 Pack

Multi-Pro Drive Kits
VIEW MULTI-PRO DRIVE KITS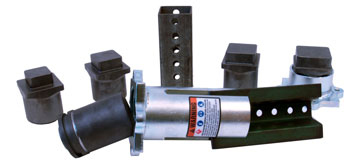 Multi-Pro Municipality Drive Kit
PRODUCT ID: RPEDGPD45DRIVEKIT|
Multi-Pro Municipality Drive Kit includes:
• Short Chuck Tube (RPEDZCH25ASBA)
• 1-3/4" Square Anchor Drive Cap for 1-1/2" ID Posts (RPEDZCH25ASBD175)
• 2" Square Anchor Drive Cap for 1-3/4" ID Posts (RPEDZCH25ASBD2)
• 2-1/4" Square Post Anchor Drive Cap for 2" ID Posts (RPEDZCH25ASBD225)
• 2-1/2" Square Post Anchor Drive Cap for 2-1/4" ID Posts (RPEDZCH25ASBD25)
• U-Channel Post Slotted Chuck (RPEDZCH25ASC)
• U-Channel Post Anvil (RPEDZCH25AEA)